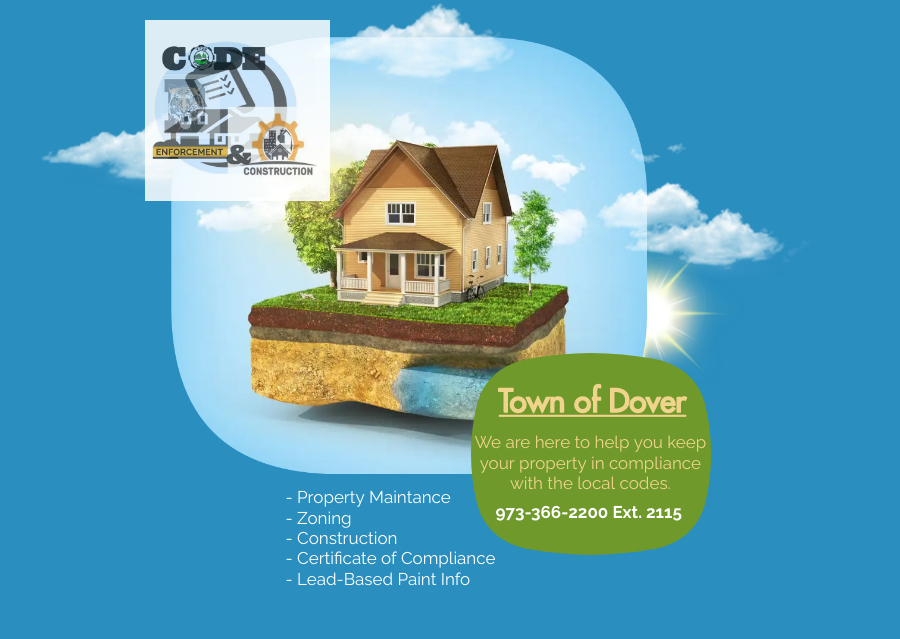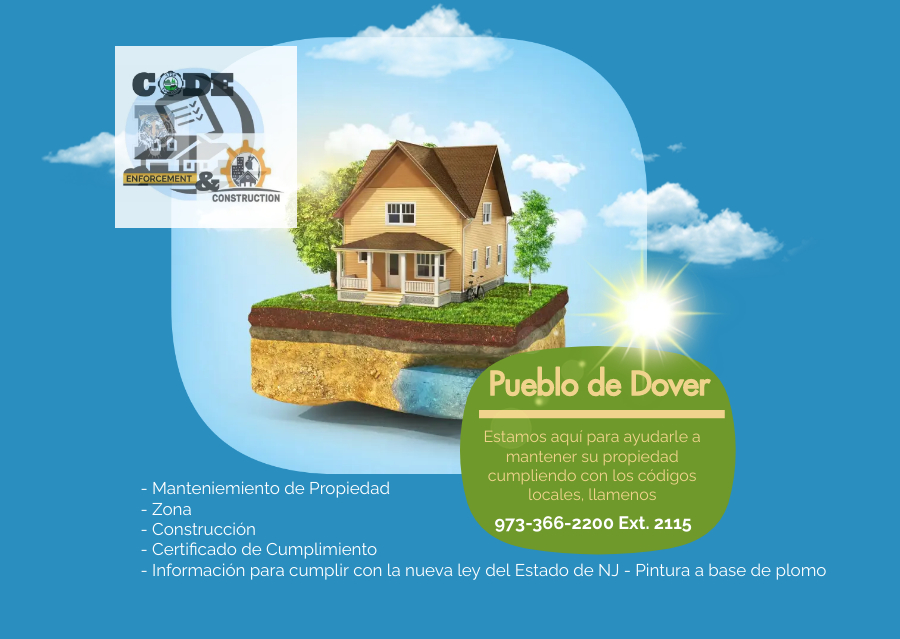 Click HERE: Upcoming Community Initiatives Development
Click HERE: Iniciativas para el Desarrollo Comunitario
Welcome to the Town of Dover
Code Enforcement Department Home Page

Please note that our office is located at 100 Princeton Ave.
Importante notar que nuestra oficina esta localizada en la 100 Princeton Ave.

The Code Enforcement Department is responsible to enforce the Municipal Land Use Law, including the Property Maintenance Code and Zoning Code. The Certificate of Compliance regulations are also managed and enforced by the Code Enforcement Department.
El Departamento de Cumplimiento del Código es reponsable de enforzar la Ley Municipal del uso de Terreno del Pueblo que incluye el Mantenimiento de su propiedad y códigos de zonificación. Las regulaciones de el Certificado de Cumplimiento tambièn se manejan y se hacen cumplir por el Departamento de Aplicación del Código.

Should you be made aware of any violations of the Property Maintenance Code, including overcrowding, illegal occupancies, or any other issues relating to the maintenance of a property in town, please contact us at (973) 366-2200 ext. 2114, and we will conduct a comprehensive investigation.
Si le informan a ústed de cualquier violación del código de Manteniemiento a la Propiedad, incluyendo la sobrepoblación, ocupación de propiedad ilegal, o cualquier otro asunto relacionado con el mantenimiento de propiedad en el Pueblo, favor de contactarnos al (973-) 366-2200 Ext. 2114 y estaremos conduciendo una investigación comprensiva.
Office Hours:
Nuestro Horario de Oficina es:
Mon. thru Fri. (Lun. a Vier.) 8:30 AM - 4:30 PM

Department Head/ Supervisor:
William Isselin
Ext. 2152

Inspectors/ Inspectores:
Mario Rodriguez
Ext. 2121
Ext. 2124
Secretary/Secretaria:
Gloria Sanchez
Ext. 2114
Lead-Based Paint Coordinator- Principal Cashier Bilingual Typist
Coordinadora de La Pintura a base de Plomo *** Cajera Principal Mecanógrafa BILINGÜE:
Michelle Espada * Email: mespada@dover.nj.us * Ext. 2116
The National Lead Information Center is a toll-free hotline, 1-800-424-LEAD (5323), that provides the general public and professionals with information about lead, lead hazards, and their prevention.
El Centro Nacional de Información sobre el Plomo tiene una línea directa gratuita, 1- 800-424-5323, que provee al público general y profesionales con la información acerca del plomo, sus peligros y como prevenirlo.
Individuals who are deaf, hard of hearing, or have speech disabilities may call the Federal Relay Service's teletype service at 1-800-877-8339.
Inviduos que tienen dificultad de audición o del habla pueden llamar al servicio teletipo del Servicio Federal de Retransmisión al 1-800-877-8339.
IMPORTANT NOTE:
Some of our deparment documents are in the process of spanish translation, others are official documents of the Town of Dover and must be legally translated and sealed (they are part of a legal process), but if you need assitance to understand any document received from our department, we count with a number of bilingual employees that are able to assit. Feel free to contact us.
AVISO IMPORTANTE:
Algunos documentos de nuestro departamento estan en proceso de ser traducidos al Español, otros son documentos oficiales del Pueblo y deben ser legalmente traducidos y sellados (forman parte de un proceso legal), si ústed necesita asistencia para entender cualquier documento recibido de nuestro Departamento, contamos con empleados bilingues que le pueden asistir. Sientase en la libertad de contactarnos.

Code Enforcement Links
Enlaces del Departamento