Dover Recreation Summer Program Information
Page Navigation

Close
Dover Recreation Summer Program Information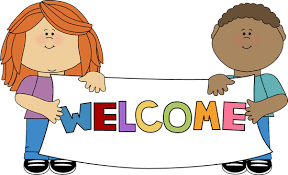 INFORMATION FOR PARENTS REGARDING THE DOVER RECREATION SUMMER PROGRAM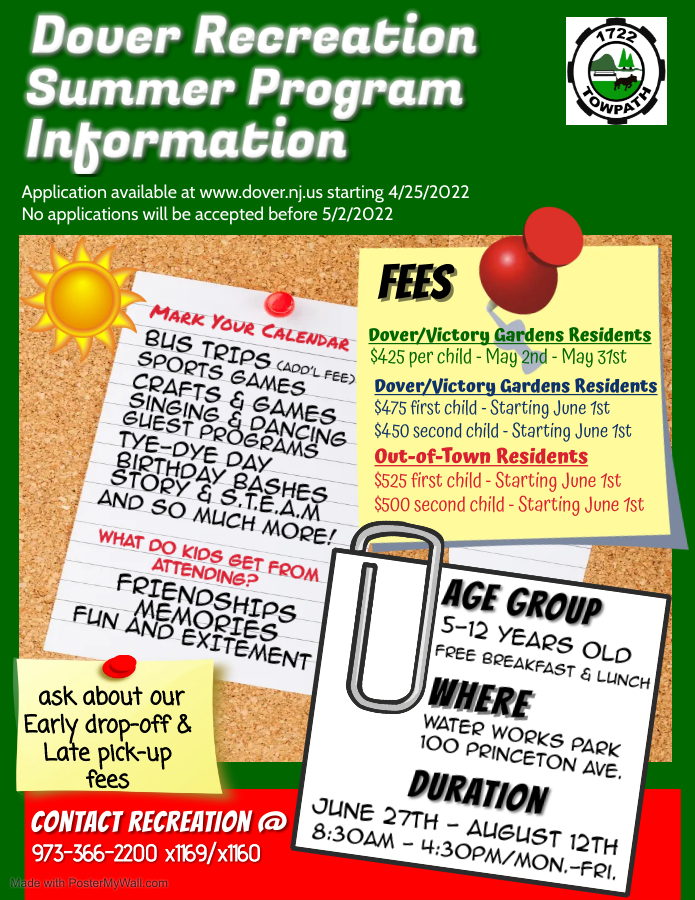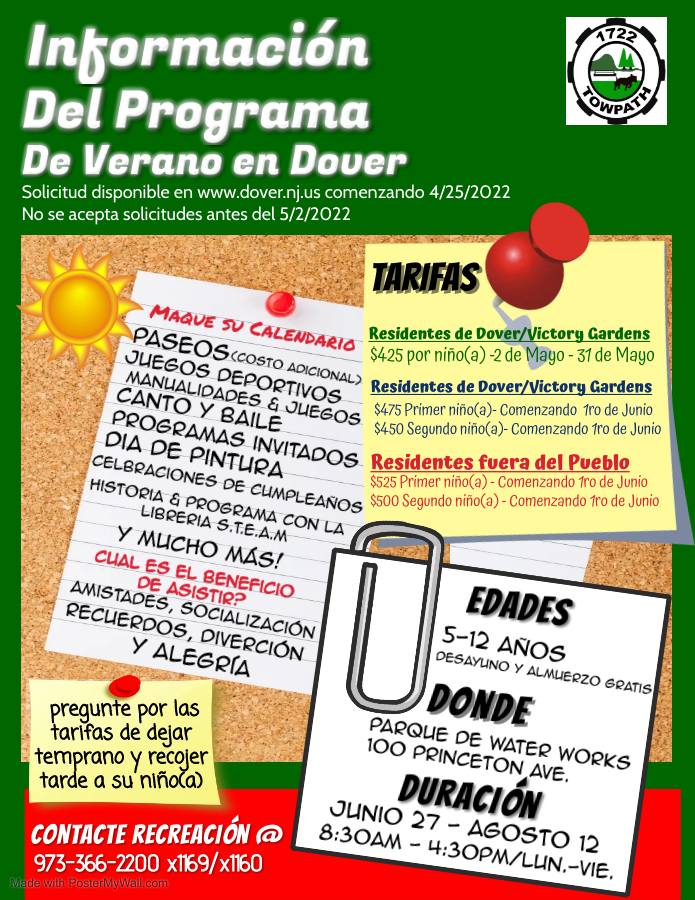 The Dover Recreation Summer Program is back to 5 days a week!
Registration for Dover residents starts on MONDAY, MAY 2nd - MAY 31st for a
50 savings; starting WEDNESDAY, JUNE 1st, regular fees apply.
The Summer Program starts Monday, June 27th through Friday, August 12th, Monday - Friday, 8:30am - 4:30pm. Breakfast
and Lunch
included.
Fees are listed on the above flyer.
Applications available online starting 4/25/2022 at www.dover.nj.us under the Recreation Department, in the Town Hall Lobby, or in the Recreation Department located in the lower level of Town Hall (37 N. Sussex Street).
Completed applications will NOT be accepted prior to Monday, May 2nd. It is required to include a copy of your child's birth certificate, proof of residency, and it is imperative to have a copy of a photo ID of ANYONE picking up your child from the park.
We have a busy schedule planned for the children to keep them active and to make a memorable summer!
INFORMACION PARA PADRES EN REFERENCIA AL PROGRAMA DE VERANO RECREACIONAL EN DOVER
El Programa de Verano Recreacional de Dover regresa a su agenda regular de 5 días a la semana!
Las inscripciones para los residentes de Dover comienzan el Lunes, 2 de Mayo y hasta el 31 de Mayo podrán ahorrar $50; comenzando el Mièrcoles, 1ro de Junio, se aplicará la tarifa regular.
El primer día de El Programa será el Lunes, 27 de Junio hasta el Viernes 12 de Agosto, a su agenda regular de Lunes- Viernes, 8:30am-4:30pm. Desayuno
y Almuerzo
incluido.
Las tarifas se enumeran en el folleto anterior.
La solicitud estará disponible EN LINEA comenzando el 25 de Abril, visite la página web www.dover.nj.us bajo el Departamento de Recreacion.
NO se aceptarán solicitudes antes del Lunes 2 de Mayo. Se requiere que incluya copia del certificado de nacimiento de su hijo(a), prueba de domicilio, y es imprescindible traer copia de la identificación de la persona que ústed va autorizar a recojer a su niño(a) del parque.
Tenemos una agenda super ocupada planeada para que los niños(as) se mantengan activos y creen un verano memorable!