Mayor Carolyn Blackman
(Term Ending on December 31, 2023)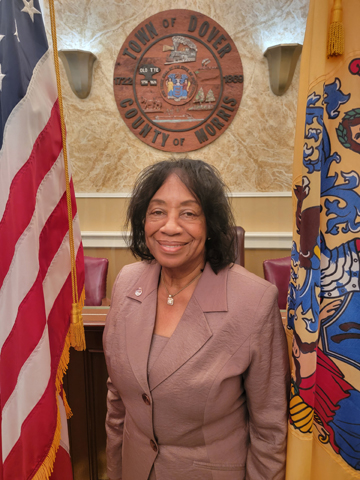 Mayor Carolyn Blackman
Town of Dover
37 North Sussex Street
Dover, NJ 07801
Tel.: (973) 366-2200 ext. 1144
Email: cblackman@dover.nj.us
Message to Residents:
STATE OF THE TOWN ADDRESS
TOWN OF DOVER, MORRIS COUNTY, NEW JERSEY
MAYOR CAROLYN BLACKMAN
JANUARY 3, 2023
I would like to begin by wishing everyone a very Happy and Healthy New Year. While the specter of COVID continues to be in our lives I pray that 2023 will allow us to continue to return our lives to a normal existence. I congratulate our new Alderman Estacio-Carillo and Alderwoman Ruiz to the Governing Body who begin their first terms and Alderman Tapia who is returning to service. Alderwoman Wittner is congratulated for her re-election. I am certain that all the members of the Board will join me in pledging to work together for all the residents of Dover. While we may disagree on some issues we all agree that our public duty is to do the best we can to assure a continual progress in our community where we live and work.
I am pleased to report that the State of our Community is excellent. During the past three years we have taken the steps necessary to bring us from a community in a dire financial position to one of a firm financial foundation. Our debt has been paid down significantly and we now meet all positive financial guidelines for a sound fiscal policy. We have sound financial plan which permits us to budget for not only what we need in the current year but put away some money for upcoming expenses in the future. Large capital items such as a fire truck, DPW vehicles and police vehicles are planned on a rotating basis to stabilize the monies required as we move into the future.
Maintenance programs have been implemented for our parks, park equipment as well as the physical assets of the community. Wherever possible we have secured maintenance agreements to protect the investment in these items.
While those of us in elected office do what we can, it is really the staff and many volunteers that make Dover work. Our First Responders are the best there are. Our fire and first aid are always the first on the scene including calls in surrounding municipalities where we provide mutual aid. Chief Jon Filosa and Capt. Jon Sperry have provided leadership bringing the career staff and the volunteers into an effective joint department that is the envy of many other towns. Even when our staffing levels fell this past year due to resignations, the remainder of the staff stepped up and no calls were missed. We have hired for the open positions and awaiting word on a pending federal grant to increase the overall number of the Fire Department to 17 career members.
Our Police Department under the direction of Chief Delaney continues to push the bar on excellence. Our accreditation has been renewed and our middle management has increased with the promotion of a Lieutenant. I would also like to congratulate our Chief Delaney who has been sworn into the number 3 spot in the Morris County Chief's Association. While I reported to you last year that two long time Police Officers Aldo Cicchetti and Lou Sperry had retired, I am pleased to report that both men have agreed to return to help the Department as Special Police Officers. Their experience, wisdom and leadership will assist with some of our newer officers.
In 2022 the Police Department continued to improve its department by hiring qualified personnel, promoting supervisory staff from within, and purchasing new equipment such as vehicles, license plate readers, and solar powered speed signs. We are also pursuing Cyber Security in different tiers and will be in full compliance by the end of the year.
The Dover Police Department also continued its community outreach efforts by hosting and participating in various activities throughout the year.
These events included:
• The 1st Annual Dover Night Out Event,
• Multiple Coffee with a Cop events,
• Drug Take Back event,
• Continued the Chiefs Walk & Talk initiative throughout town,
• Hosted car seat safety check events
• Participated in the "Game of Life" events hosted at the Dover Public Schools,
• Participated in Toys for Tots and Special Olympics Snow Bowl events
• Food distributions events with Hispanic Affairs for the holidays,
• Participated in Heritage Day,
• Participated in Cultural Festival,
• Health Fair
• Attended various events at local child care facilities
• Various other activities to build a stronger bond with the community in which they serve.
It would be impossible to report on the state of the town without acknowledging the best Department of Public Works in Morris County and probably in the State of NJ. Since his days as "one of the best football players to ever play for Dover High School", Jeff Guevara has made us proud. He and his men make sure, Dover's roads are plowed and clean after a snow storm, are present at all flooding to place cones and assure the safety of our residents, to make our parks the most beautiful in all of Morris County. This past year we saw improvement plan continue in Crescent Field with the placement of the scoreboard, 2 new playgrounds, cleanup of the "hill", significant drainage improvements, repairs to the soccer fields, and basketball courts.
JFK Park also saw significant changes this year with the installation of the new gazebo. The old structure needed to be replaced due to significant rot making it no longer safe. We did keep the cupula and the weather vane and installed on the new gazebo to keep history alive. The additional planting of thousands of bulbs had Hurd Park looking even more beautiful than in the past during this Spring. It remains the number 1 place in Dover to have pictures taken. The pavilion at Waterworks Park was replaced due to problem structure that lacked maintenance. We now have maintenance plans for all our parks and will never let them deteriorate again.
This year marked the departure of two key administration figures. Both have been replaced. Betty Lou DeCroce, our new Administrator, has a wealth of finance public service at the local and state level. As a former legislator from Morris County her contacts has already proved to be beneficial for the town. She has revamped our Health Department with a new shared service agreement and our residents will be getting better service than ever.
Recreation has a new Director and has moved upstairs in Town Hall to be more accessible for the residents. Our Clerk left, but Rey Julve has filled in as Acting Clerk and we have moved forward in a responsive and efficient way. The Finance office has a new assistant Treasurer who will provide day to day information to staff and residents alike.
Our Water Department under Bob Kinsey has been engaged in updating an outdated infrastructure, by applying for every grant opportunity.
Code Enforcement, has increased hours during this past year. Our charge to them is to work toward compliance and focused their efforts on cleaning up.
We are proud of the Sports Complex by Chris Murphy and we hope it will be an example to all.
We cannot forget to acknowledge the contributions of all the volunteers on our committees and commissions that donate their time to our town. The entire Board of Aldermen recognizes your time is important and we appreciate that you dedicate so much to improving our town.
During the course of 2022 we received over $2.5 million dollars from grants. Our aggressive solicitation of grants has helped each and every taxpayer in Dover.
This past year marked our 300th anniversary. Thousands turned out for our Cultural event and Boxing match at Crescent Field. The diversity and historical combination brought the past together with the present to define today's Dover in our Founder's Day.
The Playground at the Richards Avenue will be installed by early April late May. Milleniuum Strategy is working on grants for Town of Dover to install charging stations.
Recreation department is continuing to grow and working hard through-out the year and will have more events for children and seniors.
Health department received a grant of $270,000 and is in full force to continue providing services for the residents.
As always the Board of Aldermen and women and your Town employees are committed to improving and keeping Dover safe, beautiful and fun place to raise a family. Openness remains one of this administration's core values.
I truly believe that being open and listening to our residents is incredibly important. I affirm my commitment to do so as your Mayor. I remain honored and humbled to serve you.
I wish you and your loved ones continued good health and look forward to a prosperous 2023 for our Dover community

Thank You,
Mayor Carolyn Blackman