Mayor Carolyn Blackman
(Term Ending on December 31, 2023)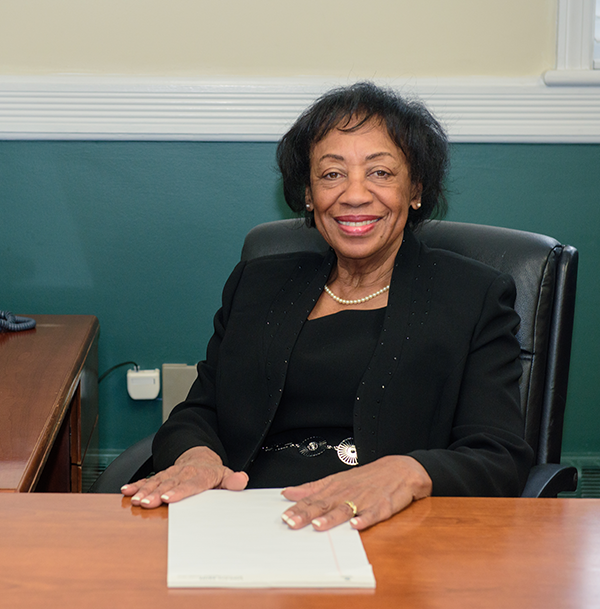 Mayor Carolyn Blackman
Town of Dover
37 North Sussex Street
Dover, NJ 07801
Tel.: (973) 366-2200 ext. 1144
Email: cblackman@dover.nj.us
Message to Residents:
STATE OF THE TOWN ADDRESS
TOWN OF DOVER, MORRIS COUNTY, NEW JERSEY
MAYOR CAROLYN BLACKMAN
JANUARY 4, 2022
First of all, I want to wish everyone a very Happy New Year. As we enter 2022 with some of the same challenges we've previously faced during a pandemic, I remain optimistic for our Town as we enter our 300th year! We have much to celebrate and to look forward to this year. I congratulate the Alderman and Alderwoman who were sworn into office today and welcome Alderman Santana, as he begins his first term.
Public safety remains our top priority. Speaking of which, I want to thank our first responders who continue to be on the frontlines for our Town. Our police, fire, and emergency services personnel respond to emergencies and crises and provide comfort and familiar faces to our community. Unfortunately, our Town
experienced two shocking, well-known acts of violence against residents in 2021. While I am troubled by these circumstances, I am very proud of how our police department has handled these situations and how quickly and diligently they have worked to bring justice to the victims and families. Maintaining safety and
high quality of life for our residents will continue to be the top priority for our police department in 2022. Police Patrol Officers Aldo Cicchetti and Lou Sperry have retired. We will greatly miss their experience, maturity, wisdom, and leadership. We wish them a long, happy, and fulfilling retirement. We remind you that "if you see something, say something."
Our Fire Department and EMS volunteer and paid members have done outstanding work responding to major incidents and everyday issues, and throughout the pandemic to save lives. In addition, our firefighters recently provided some holiday cheer with our annual Santa runs. Our first responders are an integral part of our community, and their service is much appreciated. A recent example is the fire that occurred during the holiday, where our First Responders assisted on the removal of 3 adults and a puppy from their burning home.
While the adults were treated at local hospital, I am pleased to report they are safe and healthy and the puppy is doing well.
In addition, I want to thank the staff, our Clerk, Administrator, Finance, Health, Recreation, Code Enforcement, Water, Municipal Court, Construction, Parking, Planning and Zoning, Tax Collector, Tax Assessors and Department of Public Works, and countless employees who have come to work day in and day out during this pandemic and contributed to Dover's success.
Lastly, the Board and I would like to share our appreciation for all the volunteers on our committees and commissions that donate their time to our Town. We recognize your time is valuable, and we appreciate your choice to spend it helping move Dover forward.
While we still have work to do, I'm proud of some of our accomplishments last year.
We had the grand opening of the Pennrose Veterans' Affordable Housing Building at One Thompson Avenue on October 20. The building has 1, 2, and 3 bedroom apartments and is fully populated. We continue to make affordable homeownership a priority. We will keep you posted as we move forward with future opportunities.
As a part of our flood mitigation, quality of life, and economic revitalization efforts for East Blackwell Street, we have received a $36,000 grant from Green Acres to acquire a parcel of land along the Rockaway River. The property will become a Town park approved for activities, such as access to the river for fishing and picnicking for our residents to enjoy! We are excited about the prospect of continuing to acquire property in this area for our community. Our plan requires an annual Affordable Housing Summit to explore the state of the Town with respect to our commitment to affordable housing and maintaining the essential nature of our community.

And make no mistake; this plan includes affordable home ownership opportunities, just as we promised it would. We are currently involved in advanced discussions about proposed opportunities right now. You will hear more about that as we move forward.

Our plan expressly rejects:

Gentrification
Borrowing money to provide grants or interest free loans of public money to private redevelopers of market rate housing
Closing of streets
Constructing projects out of scale with surrounding structures.

In our ongoing effort to provide upgrades to our community while keeping the costs to our taxpayers to a minimum, I'm pleased we received grants for a variety of our Town needs:

Approved grants with funding already awarded: $983,090.50
Grant applications submitted and pending review: $1,908,893.96

We were awarded the following amount for roadway and infrastructure improvements: $806,800
We were awarded the following amounts for public safety:

$24,711.50 to the Fire Department for life-saving equipment
$5,301 to the Police Department bullet-proof vests
$19,500 for police overtime
$15,000 for pedestrian safety

Our parks are and continue to be a priority for our Administration, following the closure of portions of our parks due to lack of maintenance. This administration completely renovated Crescent Field Park, including a resurfaced basketball court, upgraded the track, installed fitness apparatuses, and renovated the volleyball court. We have also planned for new public bathrooms and a concession stand, which was a campaign promise.
The new gazebo at JFK Commons and the Pavilion at Waterworks Park will be ready to go in time for our 300th Anniversary celebrations.
We continue to work with the Table of Hope to provide groceries and personal care items once a month. We partnered with the Community Church to provide 100 non-perishable meal packets to our seniors in the Spruce Street Affordable Senior building. And will continue to help those in need as we move forward.
We re-negotiated the shared services agreement with Victory Gardens instituted by the former administration to make it more favorable to the Town, reflecting a more realistic return for the services we provide.
Instituted a cost recovery program for the utilization of our Emergency Services. The first year 2020, we recovered nearly $250,000, covering the cost of the new ambulance.
Over the last several months, there has been considerable discussion about redevelopment, which is a key policy direction of this administration----and quite possibly the single most important issue facing our community at this time. I am here to recommit to our redevelopment plan and the projects that are currently in process for one simple reason: they are in the best interests of our community.
Our Town is at a crossroads. We can choose either progression or regression. I choose to progress. But it must be progress for everyone, not just a few, EVERYONE...and this is why... Our Plan embodies a responsible and balanced approach. It brings residential rental opportunities, affordable homeownership, and commercial redevelopment for our community based on what works, according to our studies, is realistic. A responsible approach is required for sustainability and vibrancy. Our Plan is consistent with the core values we outlined in platforms: Equity, Diversity, and Inclusion, which requires opportunities for a broad range of those interested in living in our community.
These are just a few of the accomplishments we are incredibly proud of, and we will continue to work hard for you in 2022. We have so much to look forward to in Dover as we enter our 300th year!
Our goal is to expand upon and highlight the culture of Dover. Our photo contest, which is currently underway, is part of that program. We will also be looking to spotlight our wonderful restaurants and make Dover a food destination.
We will also be creating a "Creating a Culture of Volunteerism" This will be a high priority for 2022. We have many smart, talented, and positive people in our Town, and we would like to engage our community. I started as a volunteer, and I found it extremely rewarding. It was a great opportunity to learn, make new friends, and contribute to our Town. We hope to have you sign up and work with us!
As always, your Board of Aldermen and women, and your Town employees are committed to improving and keeping Dover a safe, beautiful, and fun place to raise a family. Openness remains one of this administration's core values. I truly believe that being open and listening to our residents is incredibly important. I affirm my commitment to do so as your Mayor. I remain honored and humbled to serve you. I wish you and your loved ones continued good health and look forward to a prosperous 2022 for our Dover community.
Thank you.
Mayor Carolyn Blackman