Right of Way Encroachments & Permits
Page Navigation

Close
Right of Way Encroachments & Permits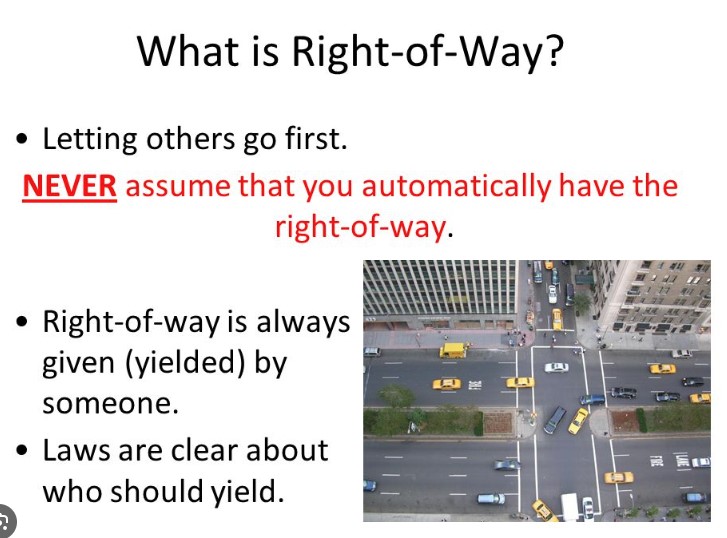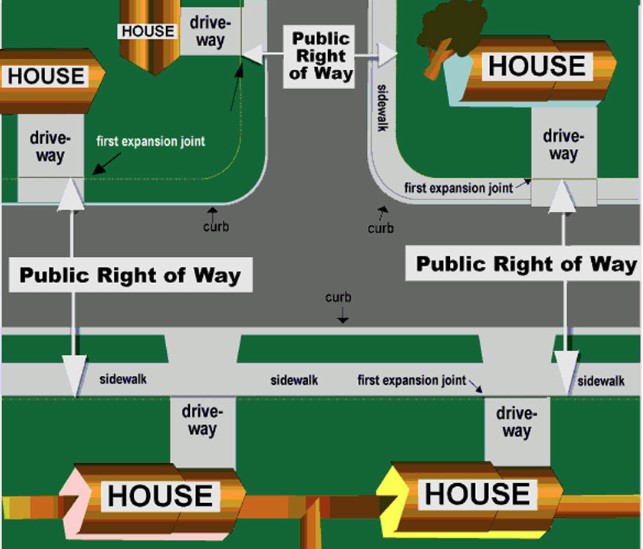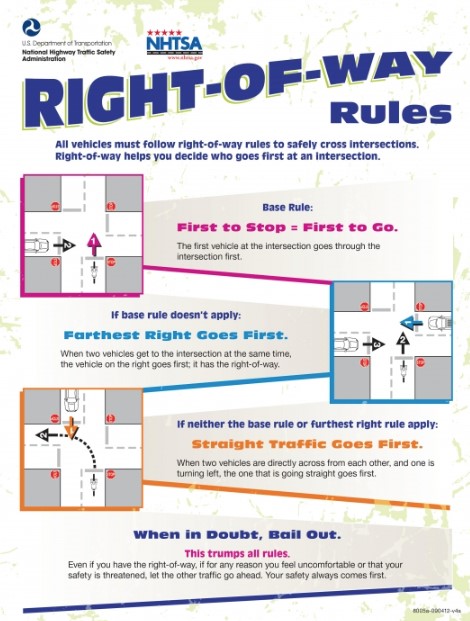 Photo copyrights to auto driving instuctor facebook Photo copyrights to moveascension.com Photo copyrights to saferoutespartnership.org
The Mayor & Board of Aldermen recently passed Ordinance No. 09-2014 which make significant changes to the regulations pertaining to Right of Way Encroachments which were previously regulated as "Street Opening Permits."
La Alcalde y la Junta de Consejales recientemente han aprobado la Ordenanza No. 09-2014 la cual hace cambios significativos a los reglamentos relacionados con las invasiones del derecho al paso público que anteriormente se regulaban como "permisos de apertura de carreteras/calles".

The following are some of the highlights regarding changes to the regulations.
A continuación le proveemos algunos de los aspectos más destacados con respecto a estos cambios en los reglamentos.

An "Encroach or Encroachment" means constructing or placing temporary or permanent structures, improvements, facilities or materials in, on, over, or under any public right-of-way or using any right-of-way so as to prevent, obstruct, or interfere with the normal use of that way, including but not limited to the performance of any of the following acts:
Una "Invasión" significa construir o colocar estructuras, mejoras, instalaciones o materiales temporales o permanentes en, sobre o debajo de cualquier derecho de paso al público o usar cualquier derecho de paso público para prevenir, obstruir, o interferir con el uso normal de esa vía /carretera, incluyendo pero no límitado a la realización de cualquiera de los siguientes actos:
Excavating or disturbing the public right-of-way;
1. Excavar o perturbar el derecho del paso público;
2. Erecting or maintaining any post, sign, pole, fence, scaffolding, guard-rail, wall, pipe, conduit, well casing, cable, wire, communication service equipment, or other facility or structure, whether permanent or temporary, on, over, or under a public right-of-way;
2. Eregir o mantener cualquier poste, letrero, cerca, andamio, barandilla, pared, tubería, conducto, revestimiento de pozo, cable, alambre, equipo de servicio de comunicación u otra instalación o estructura, ya sea permanente temporal, sobre, o bajo un derecho de paso público;
3. Planting any tree, shrub, grass, or other growing thing, whether permanent or temporary within the public right-of-way;
3. Plantar cualquier árbol, arbusto, pasto/grama u otra cosa en crecimiento, ya sea permanente o temporal dentro del derecho de paso público;
4. Placing or leaving on the public right-of-way any rubbish, brush, earth, or material;
4. Colocar o dejar en la vía pública cualquier basura, maleza, tierra o material;
5. Constructing, placing, or maintaining on, over, under, or within a public right-of-way, whether permanent or temporary, any pathway, sidewalk, driveway, or other surfacing; any culvert or other surface drainage or subsurface drainage facility; or any pipe, conduit, cable, well casing wire, communication service equipment or facility, or TV cable weather is satelital or not;
5. Construir, colocar o mantener en, sobre, debajo o dentro de un derecho de paso público, ya sea permanente o temporal, cualquier camino, acera/vereda, entrada vehícular y otra superficie; cualquier alcantarilla u otra instalación de drenaje superficial o subterránea; o cualquier tubería, conducto, cable, alambre de revestimiento de pozo, equipo o instalación de servicio de comunicaciones, o cable televisivo ya sea de equipo satèlital o no.
6. Constructing, placing, planting, or maintaining any structure, embankment, excavation, tree, or other object, whether permanent or temporary, adjacent to the public right-of-way which causes or may cause an encroachment.
6. Construir, colocar, plantar o mantener cualquier estructura, terraplèn, excavación, árbol u otro objeto, ya sea permanete o temporal, adyacente al derecho de paso público que cause o pueda causar una invasión.
Any "Encroachment" requires a "Right of Way Encroachment Permit" similar to what we used to issue for what was previously referred to as "Street/Road Opening Permits."
Probably more significant is the inclusion in the regulations of a "Prohibition Period" on recently paved/resurfaced streets. Permission to excavate in prohibition streets will not be granted for five (5) years after the completion of street overlays. As stated in the "Purpose" section of the Ordinance:
The public right-of-way is a unique public resource held in trust for the benefit of the public. This physically limited resource requires proper management to maximize its efficiency and minimize the costs to taxpayers, to protect the capital investment made by the Town of Dover in the public right-of-way, and to minimize the inconvenience to and negative effects on the public from use of the public right-of-way by contractors and utility companies.
To achieve the purpose of this chapter, the Town of Dover shall endeavor to coordinate its Capital Improvement Programs with those of utility companies and franchisees with facilities in, on, under or above the public right-of-way. Information about any planned work in the right-of-way shall be shared at the earliest possible time. Utility owners and franchisees are encouraged to coordinate their street encroachments so that all work is done simultaneously with the Town of Dover and/or other Utilities.
Please click on the below documents for further information, and please remember some of our documents are still in the process of spanish translation, but some are official documents that requires a legal process to be translated, if you need help our employees are available Mon-Fri 8:30am-4:30pm to assist you.
Cualquier "Invasión" requiere un "Permiso de invasión del derecho de paso público" similar al que solíamos emitir para lo que anteriormente se denominaba "permisos de apertura de calles/carreteras".
Probablemente más significativa es la inclusión en las regulacioines de un "Período de Prohibición" en calles recientemente pavimentadas/revestidas. El permiso para excavar en calles de prohibición no se otorga hasta cinco (5) años despuès de la finalización de las superposiciones de calles. Como esta establecido en la sección "Propósito" de la Ordenanza:



El derecho de paso público es un recurso público único mantenido en fideicomiso para el beneficio del público. Este recurso físicamente límitado requiere una gestión adecuada para máximizar su eficiencia 
y minimizar los costos y gastos para los contribuyentes, y proteger la inversión de capital realizada por el Pueblo de Dover en referencia al derecho de paso público y de esta manera minimizar las molestias 
impuestas con efectos negativos al público por el uso del derecho de paso público de parte de contratistas y empresas de servicios públicos.



Para lograr el propósito de este capítulo, el Pueblo de Dover se esforzará por coordinar sus Programas de mejora de capital con los de las empresas de servicios públicos y los concesionarios con instalaciones
en, sobre, debajo o sobre el derecho de paso público. La información sobre cualquier trabajo planificado en el derecho de paso se compartirá/informará lo antes posible con los constituyentes. 
Se alienta a los propietarios de servicios públicos y franquiciados a coordinar sus invasiones de calles para que todo el trabajo se realice simultáneamente con la Ciudad de Dover y/u otros Servicios Públicos.



The only exceptions to the "prohibition" are:
Las únicas excepciones para esta "prohibición" son:
Emergencies that endanger life or property. -

Emergencias que pongan en peligro la vida o la propiedad.

Interruption of essential utility service. -

Interrupción de los servicios esenciales de útilidad

.
Work that is mandated by local, state, or federal law. -

Trabajo que es exigido por la ley local, federal o estatal

.
The Ordinance details the procedures to be used in the event of one of the above events.
La Ordenanza detálla los procedimientos que se utilizarán en caso de que ocurra uno de los eventos anteriores.
Favor de ver los siguientes documentos (recuerde algunos documentos estan en proceso de traducción al español, pero otros documentos que son oficiales/legales requieren de otro tipo de proceso (legal). Si necesita alguna ayuda, nuestros empleados bilingues estan disponibles para asistirle de Lun-Vier de 8:30am-4:30pm.
_______________________________________________________________________________________________________________________________________________________________

CLICK HERE for Ordinance 09-2014

CLICK HERE for the new "Right of Way Encroachment Permit" Application Form

CLICK HERE for the new "Town of Dover Right of Way Encroachment Permit Agreement" with associated Specifications and Required Inspections

CLICK HERE for the new "Right of Way Encroachment Permit" Fill-in Drawings

CLICK HERE for the current listing of "Prohibition Streets" (Updated 04/18/2023)