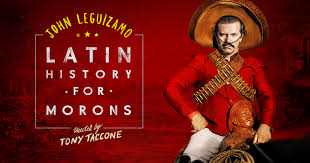 "John Leguizamo - Latin History for Morons"
When his son gets a school assignment on heroes, John seizes the chance to teach him all about the great figures of the Latino world. But once he sets out on his irreverent crash course across three continents and 3000 years of history—from conquistadores to cumbia, Montezuma to Menudo, and taking on the characters in all of it-he uncovers provocative truths that shock even him.
SUNDAY, DECEMBER 3, 2017
Studio 54 Theatre, 254 West 54th Street, Manhattan
Show Starts @ 3:00pm
COST: $110 PER PERSON
(Includes Admission to Show & Transportation)
Seats are located in the Balcony Rows EE-HH. Tickets will be distributed when boarding the bus.
Seats cannot be chosen and there are a limited # of seats available .
Bus departs from Crescent Field Parking Lot B (located off of S. Morris St.) at 10:30am and will
return to Dover approximately 6:00pm.
Click HERE to print registration form.
Once arriving in NYC, there will be plenty of time to eat or shop before the show.
Complete the application and return it with payment to the Recreation Dept. located at 37 N. Sussex Street. Checks are made payable to "Dover Recreation". Please call 973-366-2200 x1169 with any questions.