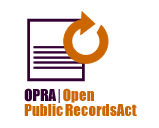 You now have the ability to submit an "OPRA Records Request Form" Electronically to the Town Clerk.
Please follow these steps:
The form is in "PDF" (Adobe Acrobat) format. It requies Adobe Acrobat or Acrobat Reader to be installed on your PC. Click Here if you need to download and install Acrobat Reader (free).
The form can be filled-in and submitted right from your PC by just typing in the required fields.
All Required Fields (Outlined in

Red

) must be filled-in or you cannot submit the form electronically, because it will not be complete.

The form requires a "Digital Signature" which you create to insure that it is a form submitted by you. When you click on the "Signature" Box, you will be prompted to create your digital signature, unless you have already created one on your computer for other Adobe Acrobat signature documents.

Please make sure you provide as much of detailed description as possible in the "Record Request Information" box. This way we can process your request as quickly as possible without having to contact you for more information about your request.

The "Maximum Authorization Cost" box must contain a value. This is the maximum amount of money you are agreeing to pay for the records. Should the cost exceed that, we will contact you for a higher Authorization Cost approval, before we prepare your copies of the records. If you are not requesting hard or electronic copies of the record(s) and you check the box "On-Site Inspect", place a zero (0) in the "Maximum Authorization Cost" box.

You can print a hard copy of the form for your records, or save a copy of the completed form to your PC.

Once you have completed the form, click the "Submit to Dover Clerk" button in the top right. That will direct you to your email program and will create an email to the Town Clerk with the completed form attached. Then just "send" the email.

You still have the option of hand delivering, mailing or faxing your OPRA Request after printing it out. Fax submissions should be sent to (973) 328-6524.

If you choose to submit your OPRA Request anonymously, as permitted by law, you cannot submit this electronically. You must print out the form and either Fax, mail it or hand deliver it. See Note 3 on the last page of the Form.
When you are ready to begin, CLICK HERE and the form will open in a new window so you can refer back to these directions while you complete the form..