Please select a year.
River Belle & Pt. Pleasant Boardwalk Adult/Senior Bus Trip
Release Date: May 01, 2017
Cruise along the calm waters of the Manasquan River while enjoying lunch on the River Belle then off to Pt. Pleasant to enjoy the boardwalk!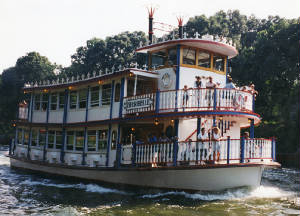 TOWN OF DOVER RECREATION DEPARTMENT
BUS TRIP FOR ADULTS & SENIORS ONLY
Sightseeing & Luncheon Cruise Aboard the
River Belle & Point Pleasant Boardwalk

Wednesday, August 23, 2017
Cost: $63.00 per person

(Includes bus transportation, dining on the River Belle and transfer to Point Pleasant Boardwalk.)

Cruise along the beautiful, calm inland waters of the Manasquan River, Point Pleasant Canal and Barnegat Bay while enjoying Lunch.

Enjoy the sights and sounds of the River and Bay while learning about the historical sites and points of interest that dot the shores aboard the narrated sightseeing cruise.
Luncheon Buffet
Our Chef's Selection will include Beef, Chicken, Pasta or Rice dishes,
Additional menu items on the luncheon cruise are:
Vegetable, Garden Salad, Assorted Dressings, Relish Tray, Rolls, Butter
Fresh Brewed Coffee, Tea and Decaf served throughout the cruise.
Dessert ~ Fresh Baked Chocolate Chip Cookies!
After the cruise, our trip will take us to the
Point Pleasant Boardwalk
where you can spend the afternoon walking the boardwalk, play a few games, sit and relax or walk the beach. (Beach pass not included.)
Bus Leaves the Crescent Field Parking Lot B (located off of S. Morris Street) at 9:30am and returns at 6:30pm
(Parking Fee is $3.00. Please pay at the parking kiosk.)
Complete the application and return to the Dover Recreation Office
located at 37 N. Sussex Street. Proof of residency required.
Please contact Lisa Newkirk at 973-366-2200 x1169 with any questions.
Cash or check made payable to
"Dover Recreation".
Click HERE for Registration Form.