Please select a year.
Dover High School Named as a Nation Blue Ribbon School
Release Date: March 07, 2014
Mayor James P. Dodd and Mayor Sam Morris of Mine Hill presented a joint plaque to Board President Susan Shauer, at the March 4th Board of Education Meeting, from both municipalities in recognition of being selected as a "Blue Ribbon" School of Excellence by the U.S. Dept. of Education.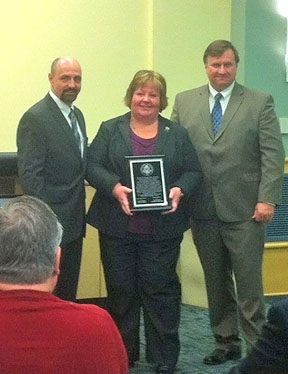 Founded in 1982, the National Blue Ribbon Schools Program recognizes public and private elementary, middle, and high schools where students perform at very high levels or where significant improvements are being made in students' academic achievement. A National Blue Ribbon Schools flag overhead has become a mark of excellence in education recognized by everyone from parents to policy-makers in thousands of communities.